I held you tonight.
Pulled your body to mine, shifting limbs that spill out of my lap
until you are tight in my embrace.
Your tears are silent streams
running the length of my neck, pooling silently on my collarbone
as your body shakes with grief.
You had a dream that our dog had died.
You stood above the open ground
and felt the panic of how to write the fullness of life
on her headstone.
"One sentence Mama, to capture all that love."
I rocked you and asked gently if you had come to any conclusions.
You had sweet boy.
You said you would write
"My dear Layla, I loved you so."
I thought of the whole world outside our door
that would be so lucky, and run so differently
if they found that one line written on their slate by your hand.
As fresh waves took you deeper towards the pain
I did nothing to stop you from feeling the hurt.
I sat with you in my lap and your heart on the wire.
Because my darling son -
my boy of wonder, darkness, and light
you can't truly love without letting all that pain in too.
Your heart, forever wide lined with ancient wisdom, is made on nights like this.
It is these moments of despair and fleeting mortality
that has the gravity to sink you more fully into the belly of it all.
Let's you feel the heat of the life blood,
while you cling to the brown scruff of your faithful friend
as you explain that
she's been by your side since the day you were born,
and you didn't know the world without her in it.
You wondered out loud why you didn't feel any better knowing it had just been a dream.
You lifted your head from my shoulders to seek my eyes
before you said
"Because it's not just a dream, is it?
We are all really dying bit-by-bit.
It's not today I have to say goodbye, but still there IS a someday.."
My own tears slipped out as I nodded
to this soul who had divinely quickened within my womb.
Who by the very act of creating, I had committed to walking life full through.
I ached to tell you that it would be alright.
That the monsters wouldn't come
simply because today, they weren't at our door.
But your soul, who so often guides mine
stopped me short of offering a silver lie
to get us through the night.
Instead, I wrapped myself more fully around you
allowed the darkness to hold us close
and listened to you wrestle and grapple the frailty of it all
until at last...the rhythm of your heart and your slumbered breath met.
And still I hold you.
For I can't keep those dreams, those truth from finding you
but for at least tonight, you don't have to face them without me by your side.
(linking with
Emily
,
Heather
,
iPPP
, and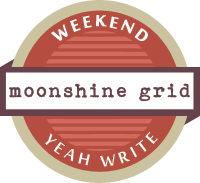 )